Jaipur Tours
This famous city is the capital of Rajasthan and has earned universal renown as the " Pink City ", and pink it is, with beautiful constructed palaces, havelis and forts.
Tall, rugged men with handle-bar whiskers sport bright pink turbans. Jaipur which means the city of victory was built exactly 273 years back and is 262 km by road from Delhi ( Capital of India ). A strong wall encircles the old city and even today has a suggestion of formidable strength, its function of protecting all within is obvious.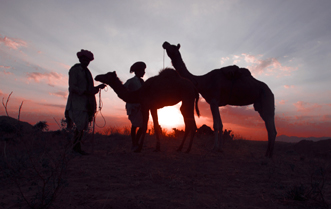 The plains of Rajasthan of which Jaipur is the capital once thundered and echoed with clash of swords and the drums of wars.Built in 1727 by Sawai Jai Singh-II, Jaipur was the first planned city of its time ( the earlier planned city in northern India having been built near Taxila sometime in the 2nd century BC ).
Jaipur was planned by Vidhyadhar Bhattacharya, a Bengali architect, in a grid system with wide straight avenues, roads, streets and lanes and uniform rows of shops on either side of the main bazaars, all arranged in nine rectangular city sectors (chokris). The city itself is an attractive creation worthy of universal admiration.
There is a feast in store for tourists. Attractive monuments where one can breathe the fragrance of history. Comfortable and luxurious hotels, once the proud of kings, parks, gardens, and excursions of nearby places of interest, make Jaipur a tourist's paradise.
The picturesque capital of Rajasthan, Jaipur is color washed pink-the color associated with hospitality in Rajput culture. Built in 1727 A.D. by Maharaja Sawai Jai Singh JI, Jaipur displays a remarkable harmony and architectural splendor. The ancient heart of the Pink City still beats in its fairy-tale palaces, rugged fortresses perched on barren hills and broad avenues that dot the entire city. The only planned city of its time, Jaipur is encircled by a formidable wall.
A young Bengali architect, Vidyadhar Bhattacharya formalised the city's plans in a grid system. The wide straight avenues. Roads, streets, lanes and uniform rows of shops on either side of main bazaars were arranged in nine rectangular city sectors (Chokris), in accordance with the principles of town planning set down in the 'Shilpa Shastra'- and epochal treatise on the Hindu architecture.
There is a timeless appeal to Jaipur's colorful bazaars where one can shop for Rajasthani handlooms and trinkets. Beautifully laid out gardens and parks, attractive monuments and marvelous heritage hotels, once the residence of Maharaja's are worth admiration. Not to mention the ambling camels and cheerful people in multi-hued costumes that make your trip to the pink city a memorable one.
General Information :
Location : 336-km From Jodhpur, Rajasthan
Built In : 1727 AD.
Significance : Capital City of Rajasthan State
Best Season : October To March
Local Transport : Tourist taxis and RTDC buses are available.
Information offices : Foreigners Registration Office, Behind Hawa Mahal; Govt. of Rajasthan Tourist Office, Railway Station