Agra Tours
Agra is the one of the prominent destinations of the World Tourism map with three heritage monuments - The Taj Mahal, Red Fort & Fatehpur Sikri. It is more just a dacadent city of graveyards and stones, but it is a vibrant centre of Culture, Art and Religious philosphies that have enriched mankind and shaped humen thought over centuries.
A pleasant town with comparatively slow pace, Agra is known for its superb inlay work on marble and soastone by craftsman who are descendant of those who worked under the Mughals. The city is also famous for its carpets, gold thread embroidery and leather shoes.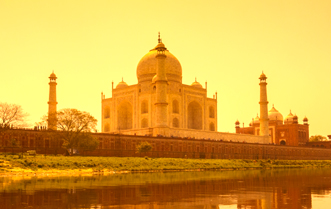 Agra was once the capital of the Mughal empire and even today it seems to linger in the past . Not surprising , for the Mughal emperors with their passion for building, endowed the city with some of the finest structures in the world . It is very easy to slip away here through the centuries into the grandeur and intrigues of the Mughal court.
Agra is an old city and it is said that its name was derived from Agrabana, a forest that finds mention in the epic Mahabharata.
In more recent times Agra came into prominence when Sikandar Lodi made it his capital city in 1501 . The Lodi rule was to end very soon and Agra passed into the possession of the Mughals.
It was during the time of the third emperor Akbar that Agra came into its own . He embarked on the construction of the massive Agra Fort in 1565. Though Akbar was diverted into building a new capital at Fatehpur sikri not far away.
Agra continued to retain its importance and Shah Jehan, Akbar's garndson ornamented the city with that masterpiece of Mughal architecture - the Taj Mahal and built several other beautiful buildings within the Agra fort.
General Information :
Area : 62sq.km
Population : 11,11,086 (1991 census)
Altitude : 169 mtrs, above sea level
Best Season : October To March
Clothing : Summer: Light cottons. Winter: Woolens
Language : Hindi, English & Urdu
Festival : Taj Mahostav (18-27 Feb) Sheetla Fair, Kalish Fair (Aug-Sep), Bateshwar Fair (Nov), Urs (Fair) (Nov)
Local Transport : Buses/Taxis/Tongas Auto-rikshaws cycle rikshaws
STD code : 0562